Family Dentistry
At Brosnan Dental, we enjoy treating patients of all ages and our office is easily accessible by wheel chair.  Dr. Brosnan and Dr. Smith use the most advanced techniques and modern dental equipment to provide our patients with optimal dental care.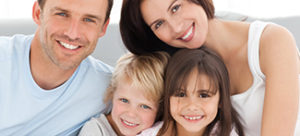 We are committed to listen, understand your needs, and to work with you to exceed your expectations. Our Family Dentistry services include:
Pediatric Dentistry: We treat children as young as 2 years old. Receiving quality dental care as a child has been proven to have positive life-long effects including orthodontic improvements and reducing potential dental phobias.
Preventive Services: We'll help you maintain the youthful appearance and healthy condition of your teeth, gums, and mouth.
Cosmetic Dentistry: See how our advanced, cosmetic dental techniques can improve your smile while maintaining a natural appearance.
Teeth Whitening: Erase stains and signs of aging with in-office or at-home bleaching options.
Teeth Straightening: The cure for crooked or crowded teeth may be clear. Ask about Invisalign, the attractive alternative to metal braces.
Root Canal Procedures: A root canal is a treatment used to repair and save a tooth that is badly decayed or becomes infected. During a root canal procedure, the nerve and pulp are removed and the inside of the tooth is cleaned and sealed.
Dental Emergencies: Count on us in the case of a dental emergency, including chipped and broken teeth, toothaches and other problems.
Call us to schedule your appointment at 610.353.5750