Dental Implants
Dental Implants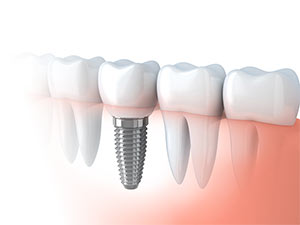 In many cases dental implants are now the best way to replace missing teeth. Dr. Brosnan has completed advanced training in implant dentistry and was recently honored as a fellow by The International Congress of Oral Implantologists (December, 2015). At Brosnan Dental your implants will be placed and restored by our experienced team in one location, and our entire staff will work with you to make the process comfortable and successful.
What Are Dental Implants? Dental implants are used to support the restorations used to replace a missing tooth or several missing teeth. They are usually made of titanium and act to replace the roots of missing teeth. Once the implant has healed to the bone, they can support a crown, bridge or denture to replace the missing tooth or teeth.
What Are The Benefits? There are many benefits of dental implants compared to other restorative options. Implant placement helps to:
Prevent adjacent teeth from unnecessary treatment

Preserve bone and soft tissue from being lost

Improve appearance by replacing missing teeth

Improve dental hygiene

Provide stability for dentures

Prevent surrounding teeth from shifting and bite collapse
What Does The Treatment Involve? The first step in the implant process is a consultation appointment to determine if you would be a good candidate for treatment. Next, the implants are placed and allowed to heal for a period of usually 3 to 4 months. Once healing has been completed, the missing teeth can be restored with permanent crowns, or the implants can stabilize an existing denture.